Editor's Note: Since COVID has affected tourism and business, please call or check online with any club to make sure they are open for business.
Cocktail in hand, DJ playing, poolside view, while kicking back and relaxing on your sunbed? Does this sound like Paradise? We tell you where to find it.
Beach clubs sound exotic, exciting and incredibly expensive. However, here on Mallorca that isn't necessarily the case. Across the island we have scoured the very best beach clubs at (relatively) affordable prices. Whether you fancy a pool party, or pure relaxation, this little island is sure to have what you're looking for…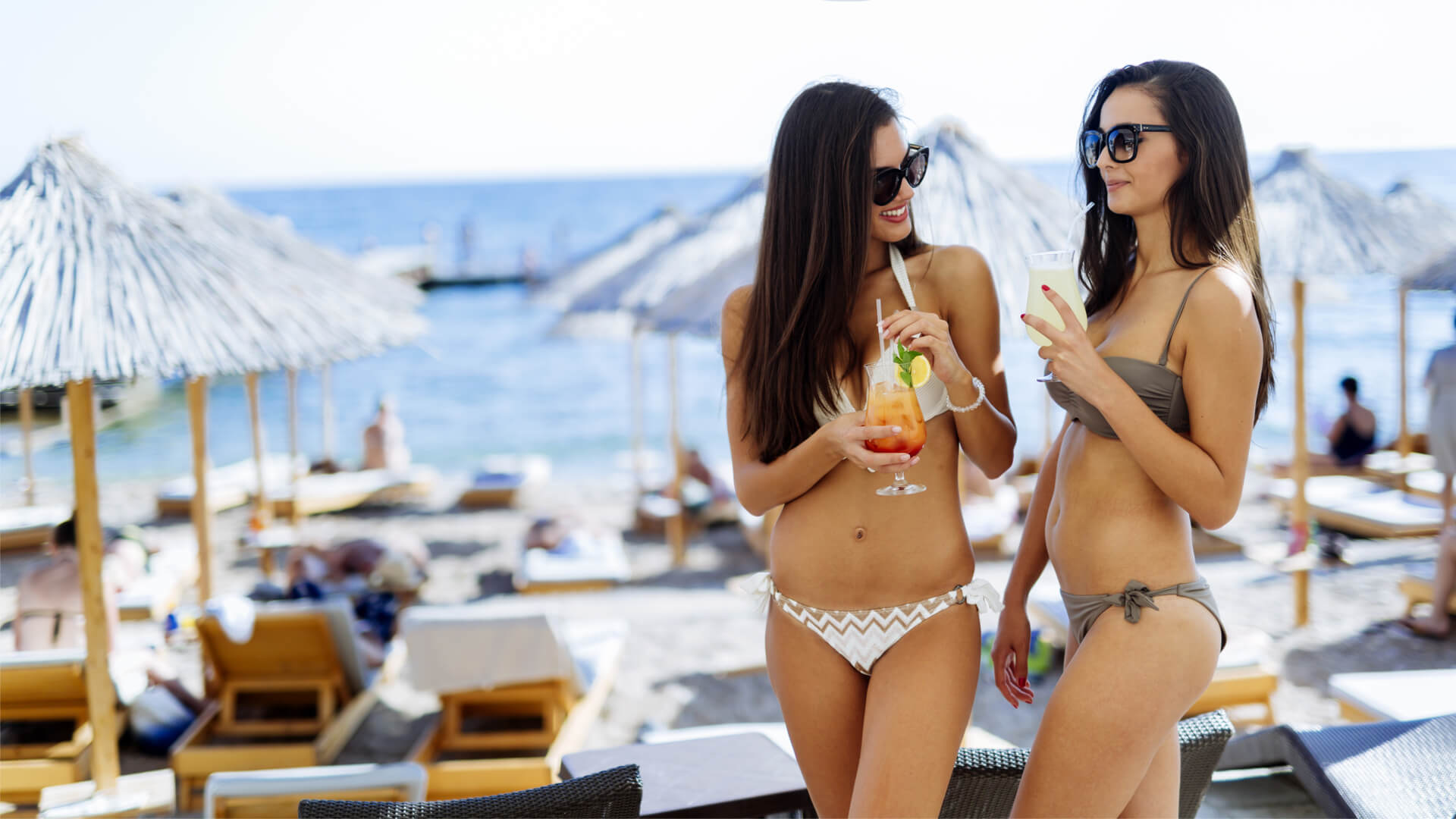 Palma #
Purobeach Palma
Opened in 2005, Puro quickly gained a reputation for being one of the best beach clubs around! With 135 sunbeds, offering 180 degree views of the sea, the setting is almost impossible to beat. Throughout the summer, various DJ's and musicians attend the venue, meaning you can sit back and relax whilst listening to your favourite tunes. On site there is a bar, restaurant and wellness centre; so why not treat yourself to a massage and a cocktail upon arrival?
Renowned as one of the best places to socialise, it is vital you reserve your sunbed well in advance. Every package includes a free welcome drink (bottled water), fruit platter and smoothie shot (any further food or drinks are extra) and prices start at 40€. The price system increases depending on the location of the lounger. For example, the most basic lounger is located on the rooftop and will cost 40€ for the day (11am-7pm). Poolside beds are 60€, and those with a seaview are 65€. Puro does offer a handful of Balinese beds, perfect if there are a few of you (maximum 4 people) this package will cost 320€ (80€pp) but also includes a Moet Chandon ice bottle- probably not something to afford every day, but not such a bad deal for a full day at one of Palma's most sought after clubs.
Of course food and drink must be factored in throughout the day, although restaurant prices are relatively affordable. The wellness centre offers massage packages that cost between 45-100€- so realistically a full day at Puro will set you back 200€pp. However, for a full pamper experience, that will leave you feeling like a VIP- it's certainly worth it!
Address: Carrer del Pagell, Carrer de Cala Estancia, 1, Can Pastilla, 07610, telephone + 34 971 74 47 44
Anima Beach Club
Located on the Playa de Palma beach, Anima Beach oozes sophistication. Large white bali beds, picturesque water features, and stylish interior design will have you feeling you've been transported to a Hollywood retreat.
Hosting regular music and partying events this beach club really is one of the best for mingling and meeting new people, whilst letting your hair down and having a good time! The jam packed events calendar means that there is an event for every occasion, whether you're here as a holidaymaker or a resident wanting to try something new on your day off- Anima is party central all summer long!
General sunbed hire, for a day of relaxation, costs 35€ per person and includes a welcome drink, towel and bottle of water. Additional drinks and food will cost extra, although the menu is very affordably priced; consider the mixed tapas for 2 at just 39€. Group packages are available, offering a Bali bed and a bottle of Moet Chandon for 180€ (maximum 4 people), so for less than 50€ per person you can lead the champagne lifestyle for a day- not bad if you ask me! Children are also permitted at Anima, and a full children's menu is available, allowing you to treat the whole family to a day of luxury relaxation!
Address: Autovia del Levante, Palma, 07006, telephone +34 971 59 55 91

Southwest #
BH Mallorca- Island Beach Club
Situated in Magaluf, Island Beach Club has been making a name for itself as one of the most exciting beach clubs here on the island! Although its location may have you worrying that it's full of 18-30's unable to handle their liquor, that couldn't be further from the truth!
Island Beach Club lies within the grounds of the BH Mallorca hotel, and offers a spectacular pool area, complete with stage (that hosts regular DJs and singers from across the globe) as well as several bars! The layout and decor are simplistic yet stylish, with a variety of sun loungers and VIP zones, with Bali beds, sofas, beanbags and more! As for the size of the pool, well it is simply massive; ideal for swimmers, splashers or those who just want to dip their toes in the cool water.
As an adults-only beach club, everyone must be over the age of 18 upon the time of booking. If you are resident at the hotel (BH Mallorca) you are entitled to general access to the beach club on a daily basis, although expected to upgrade for VIP packages in the same way as non-residents. Standard entry (comprising all-inclusive food and drinks between 12 and 7pm) is around 55€ per person, and this allows you access to the event and a standard sunbed. For VIP packages, they vary in price and each one includes something a little different, starting from 250€ and reaching up to 1000€ (based on 4 people sharing). Tickets can be purchased directly from the hotel in advance or on the day, or from affiliated site www.feelsummer.com.
Address: Avenida Palmeres, 12, Magaluf, 07181, telephone +34 971 13 15 93
North #
Marenita Beach Club
Brand new for 2019, and in the beautiful resort of Port de Pollença, Marenita is everything you could dream of and more. Tasteful decor, rooftop spa and bar, views across the open ocean, spectacular food and exquisite service- need I say anymore?!
The enchanting pool area, lies in the courtyard and offers an array of comfortable loungers for you to laze away the day. By night, the area will transform into a venue for jazz concerts, or maybe a DJ for an afternoon 'tardeo' event- the owners have hundreds of ideas for this new venture, sure to please all tastes.
As this is Marenita's first summer, it is just getting established, but the bigger plans include personalised swimwear and towels for those who register to become long term members, as well as the option to sign up for a day or short term membership (depending on the duration of your stay). The rooftop bar is being developed as we speak, and will hopefully host its own events, from open air film showings, to star gazing, accompanied by live music. The menu has a range of tasty and healthy dishes, with many options for vegans and vegetarians- it really is one of the best beach clubs here on the island.
Affordable Mallorca Tip: Membership prices were not confirmed at the time of our meeting, but pop by for a coffee and see for yourself; you won't be disappointed!
Address: Passeig de Londres, 84-86, Port de Pollença, telephone +34 971 15 89 11

East #
Seasun Fona (Sattic Chain)
In the coastal resort of S'Illot lies the Seasun Fona hotel, which offers a fabulous rooftop bar and pool. Although not your conventional 'beach club,' the panoramic views of the East coast of Mallorca, accompanied by incredibly tasty cocktails, are sure to take your breath away.
The Sattic group have many of these rooftop ventures across the island, and specialise in a rooftop retreat, for adults (no children permitted) in need of some deep relaxation. Entrance is free for those staying at the hotel, and for others the only rules are that you must buy a drink, and are not permitted entrance until after 4pm; although with the sun shining late into the evening here in Mallorca, this is no real problem.
Comfy double beds, complete with canopies and parasols adorn the terrace, a small pool, perfect for a late afternoon dip, and occasionally a DJ ensure that those holiday vibes are radiating well into the night- and I can promise you will have a night of ultimate bliss.
Address: Calle Grecal, 19, Sa Coma, S'Illot 07687, telephone +34 971 81 22 55
What Are You Waiting for? #
No matter which corner of the island you choose to explore, you can guarantee there is a beach club for you- so kick back, relax and get the VIP treatment that you deserve!
Sources #
Personal experience, I've tried them all!
Information on prices and opening hours from club websites

#Chill #Relax #Beach #Club #Mallorca #Events #Cocktails #Gastronomy #Party #VIP
By Zoé Holmes
21 May, 2022