Son Servera
#
An enchanting village, nestled high in the hillside.
Tucked away on the North Eastern coast of the island, lies the sleepy town of Son Servera. Just ten minutes inland from the fishing village of Cala Bona and the lively town of Cala Millor, Son Servera is often the forgotten relative. However, it is far from understated when it comes to natural beauty and fascinating local history. Not to forget that it is also home to one of the island's most stunning wedding venues
A Stone's Throw from the Water #
With a journey time of around an hour and half from Palma; Son Servera is easily accessible, heading along the motorway through Manacor before tailing off along the coast, through towns and villages such as Porto Cristo, Sa Coma and S'Illot. Despite the town's inland position, you are a mere stone's throw from the water and the hubbub of the holiday hot spots. Although the journey is straightforward, do be prepared for some narrow twists and turns as you climb up into the village centre, and head out across the country tracks, to admire the finest fincas and villas that Mallorca has to offer.
Son Servera is just a few kilometres away from the busier neighbouring resorts, but it's rural position can make it hard to access without hiring a car, although if you really don't fancy driving; regular bus services from Cala Bona and Cala Millor operate throughout the summer months, and a taxi from either of these resorts will only set you back 15 € at most

One of the Island's Best Kept Secrets #
If it's a relaxing and romantic break away that you are looking for, or the perfect location for your quiet farmhouse retreat, Son Servera has almost every box ticked. With a new bypass being installed around Son Servera, very few tourists from the North of the island pass through the centre of the town. It certainly seems a crying shame that many holiday makers miss its sheer beauty, however it creates the perfect oasis of calm for those who do know about one of the islands best kept secrets.
Although quiet and tranquil, Son Servera is far from dull; the expansive views from almost every point on the hillside ensure that you are never bored. As well as taking in the natural beauty, Son Servera has its fair share of bars and restaurants, and the town certainly gets painted red for the countless fiestas throughout the year!
History #
With the earliest recorded inhabitants settling in Son Servera during the 13th century, this little village has certainly planted itself firmly on the map as one of the most historic spots in the North East of Mallorca. Rumour has it that the town takes its name from a rogue deer that used to roam across the hillside ("cérvol" is the Catalan word for deer) and although no written evidence backs this up, it's a strong local belief. However, residents looking for a slightly more plausible answer, believe that it was named after the famous Cervera family who once owned much of the land within the town.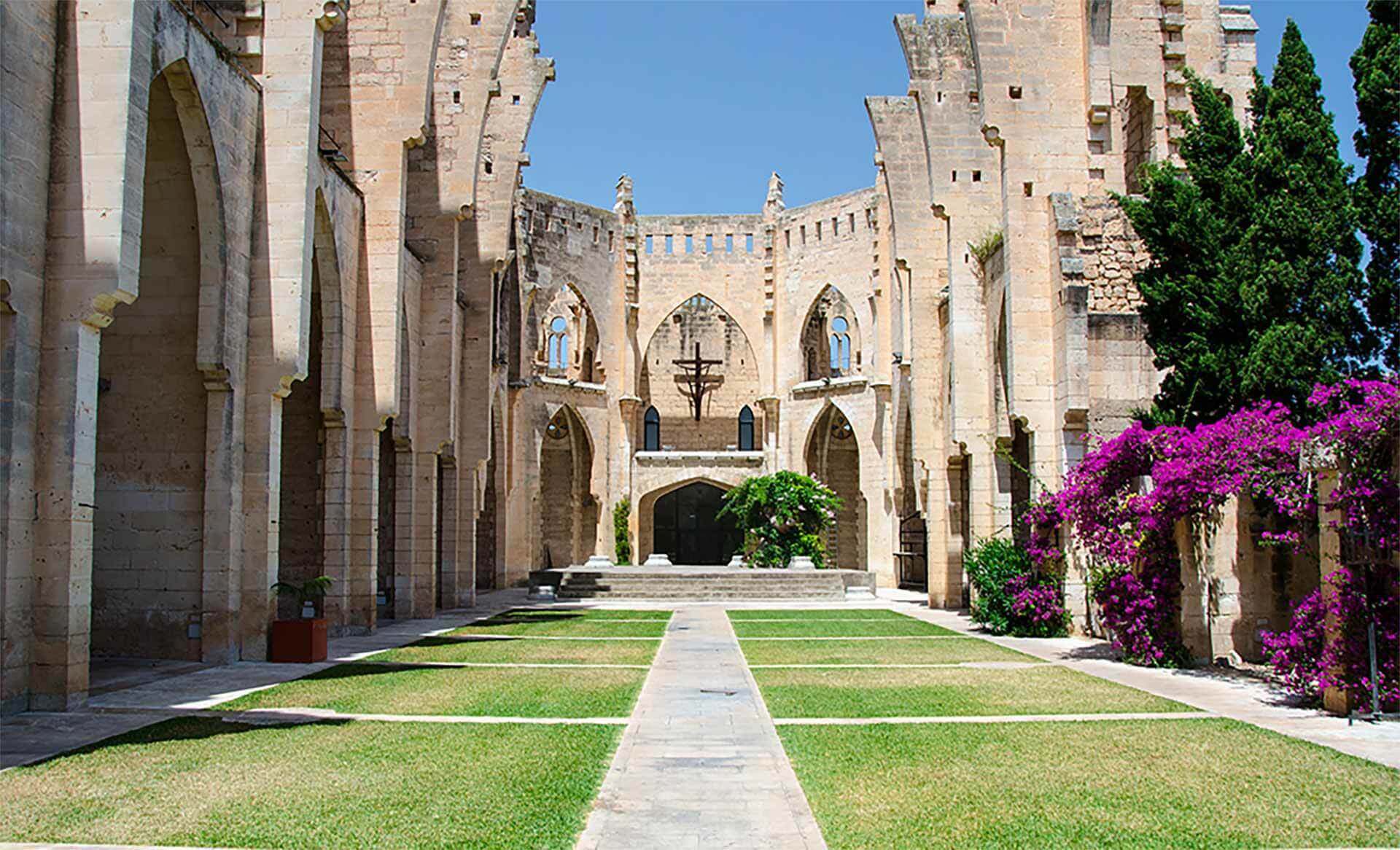 Local Sights #
One of the most spectacular sights in this quaint little town is the Neo-Gothic church, known locally as the S'Església Nova. Constructed in 1905 by a student of Antonio Gaudi, this fantastic feat of architecture was sadly never completed due to lack of funds. However, the 'open air' style church carries a charm of its own and is used as a wedding venue, theatre space and concert hall, making it the heart of the community.
Food & Drink #
For a small town, Son Servera packs a hefty punch when it comes to fine wineries and 'dineries', here on the island of Mallorca. From affordable local hot spots, to luxurious restaurants with specialist chefs, Son Servera caters for all tastes.
Binicanella
In terms of feeling like a local, no other restaurant will reflect Mallorquin cuisine like Binicanella. This specialised Mallorquin BBQ restaurant has been serving some of the finest home cooked food for the last twenty years. Known for its vast array of locally sourced meats, Binicanella specialises in cooking great cuts of meat, on a huge smoked BBQ, ensuring maximum taste and incredible portion sizes, without pulling at your purse strings! An average meal here will cost around 25 € per person, add in a bottle of wine (produced locally in Manacor) and maybe even a dessert (if you have room!) you can expect to pay well under 100 € for two people, and you can guarantee you won't be disappointed! The country house setting is charming, and cosy, combine this with exceptional service and stunning views across the mountainside, you're sure to visit time and time again!
Contact: 971 567270
Camí de Son Gri, 07550 Son Servera
Ses Cases De Fetget – For a special occasion
Glamour, sophistication, exquisite menu, silver service and views as far as the eye can see, Ses Cases De Fetget is one of the most fabulous dining experiences here on the island! This gorgeous finca not only houses an outstanding restaurant, but also boasts several boutique bedrooms, ideal for special occasions such as weddings, honeymoons or anniversaries. The restaurant itself was once home to a Michelin starred chef, and has continued to deliver food of this standard for many years, now growing many of their ingredients on site. The attention to detail within every course is simply spectacular, sometimes it's hard to decipher whether you have been given a meal or a masterpiece! It must be noted that the A La Carte menu will certainly set you back around 250 euros (based on 2 people having a three-course meal) although it is worth each and every penny! However, this fabulous restaurant offers three and five course tasting menus, ranging between 55 euros and 75 euros per person, including water and a complimentary cocktail or alternative alcoholic beverage. Ses Cases De Fetget promises to create fusion dishes using the very best local produce, it's a taste sensation that is not to be missed!
Contact: 971 817047
Carretera Son Servera-Arta, km 1,5, 07550 Son Servera
Shopping and/or Markets #
Town markets are immensely popular here in Mallorca, and whilst some seem to recycle the same old things, Son Servera promises a far more enthralling shopping experience. Renowned across the North East coast of the island, Son Servera's market is one of the largest across the nearby towns and villages; in fact, many hotels and tour operators within Cala Bona and Cala Millor offer excursions to the market, free of charge!
Amongst the rows of hand-crafted jewellery, clothing, tableware and aromatherapy products the market is host to an abundance of fresh and local produce. The vivid colours that shine across the market stalls are sure to turn heads, and if you get a little peckish whilst trawling through the stalls, the Bunyol stands offering the tasty Mallorquin deep-fried dough balls are there to provide a sugary relief for weary shoppers!
The market commences at around 10am, although the set up begins as soon as the sun rises, and it dwindles at around 2pm - so there is plenty of time to explore, whether you are an early riser or a bed head! Although the market will take around two hours to meander through, it certainly won't take all day, so squeeze in some sightseeing and pay a trip to the fabulous S'Església Nova, a perfect day out in my book!
Watch this video to find out how to get to the market
Sports & Recreation #
Son Servera's location is perfect for those who love to wander across the rocky terrain, strolling through the countryside or steam-rollering ahead into bracken, whatever pace you choose there are walks and rambles for all!
Manacor- Artà Greenway
If you like to stroll along a flatter path, and take your time admiring the sights, then this could be the route for you! Originally a railway line that served the rural communities of Sant Llorenc des Cardassar, Son Carrio and Son Servera the Greenway runs throughout the most eastern towns on the island, allowing a safe walking trail that can be joined at several different points. Accessible via bike, although slightly more
relaxing on foot, this flat trail connects every town and village between the vibrant town of Manacor and sleepier town of Artà. The trail cuts through glorious crop fields and farm land, and although it doesn't connect directly to the sea, it is almost adjoining Son Servera, providing breathtaking panoramic views of the coast line. This delightful route combines Mallorca's unknown inland towns and villages, with its world-famous coastal towns- something for everyone!
Punt de n'Amer
For those of you who like to challenge themselves a little, then the walk to Punt de n'Amer will certainly tickle your fancy! A trail of around 1.5 kilometres through steep and rocky pathways will lead you up to the spectacular Castell de n'Amer, where you can rest at the top with a cold drink or snack from the quaint little bar and admire the views below. Accessible from Cala Millor or Sa Coma, this trail is popular with walkers and cyclists alike, although recommended for those who aren't afraid of heights! This incredible nature reserve seems a world away from the bustling seaside resorts of Cala Millor and Sa Coma. As well as providing the exceptional coastal views, Punt de n'Amer is home to dunes of exotic plants and many varieties of rare marine birds, it really is a haven of peace and tranquillity.

Pula Golf Resort
Any budding golfer, amatuer or professional, will enjoy the spectacular 18-hole course, here at Pula Golf Resort. Established in 1995, and completely redesigned in 2004, this stylish course is host to many prestigious events throughout the year. As well as the main course, there are two driving ranges and a large chipping green, so that you can practice your shots before challenging anyone to a game! Prices vary from 49 € per person (9 holes) and 94 € per person (18 holes) during the height of the summer, although prices are reduced throughout the winter season, and various packages can be designed for larger groups.
Fiestas & Annual Highlights #
'San Antoni' the fiesta celebrating the patron saint of animals is a monumental day in Son Servera. Celebrated on the eve of the 16th January, the main event is the 'Dance of the Devils' (Dimonis) where people dress up in devilish costume, and perform a traditional dance which dates back to the Middle Ages!
As well as the performance, you can expect fireworks, traditional songs, dances and parades which re-enact the temptation that San Antoni faced from the devils. It is also common practice for people to take their domestic pets to be blessed at the local church. Son Servera celebrates this fiesta in one of the largest capacities on the island, with spectators travelling far and wide to join in with the festivities! As with any fiesta in Mallorca, be sure to party well into the early hours of the morning, and nurse your sore head the following day!
Living in Son Servera #
Property within Son Servera can often come with a fairly hefty price tag, and primarily the area offers fincas of rural villas, as opposed to affordable apartment-style living. However, just a short drive towards the coastal towns of Cala Bona, Sa Coma, S'Illot and Cala Millor, you'll certainly not struggle to find more affordable properties.
Purchasing Property
On average, 3 to 5-bedroom properties in the heart of Son Servera town can cost anywhere between 400,000 euros and 1 million euros. Many are set within acres of land, and have their own private pools, looking over the glorious countryside. Move a little closer to the seaside resorts and you can purchase properties for an average price of 200,000 euros, securing yourself a comfortable 3-bedroom apartment for this price. It must be noted that the areas of Cala Bona and S'Illot are slightly cheaper than Cala Millor and Sa Coma, due to the size and the number of amenities available within the resorts.
Renting Property
In terms of the rental market, properties average at around 1,200 euros for a two-bedroomed property, and properties vary in their location. This price is an average for apartments between all areas within the municipality of Son Servera.
Charm Factor #
Effortlessly exuding rustic charm, Son Servera will have you falling head over heels time and time again.
Sources
Property: Kyero.com
Fiestas: SeeMallorca.com
Pula Golf Resort: www.pulagolf.com
By Memphis Holland
5 January, 2019
Location