Mallorca's Top 10 Wedding Venues
Everybody dreams of their perfect wedding in a spectacular location overlooking the sea or perhaps in the midst of a magical forest surrounded by mountain tops
I have listed below in alphabetical orderBy 10 of the best wedding venues in Mallorca, These are my recommendations based on personal knowledge of the venues and feedback from friends.
Can Simoneta
Canyamel, East Coast Mallorca
www.cansimoneta.com

Secluded hotel in a beautiful cliff top location on the east coast of Mallorca - enjoy wonderful sunrises! The hotel is an oasis of peace and tranquility. It occupies 2 traditional buildings which are over 140 years old and recently renovated to a high standard. The extensive gardens spread along the cliff top with steps down to the water's edge. An idyllic setting for your wedding!
Can Simoneta is an hour from Palma.
It has 26 rooms and can cater for up to 250 outside.
Cap Rocat
Cala Blava, South Coast Mallorca
This former 19th century military fortress is located on a secluded headland with panoramic views over the bay of Palma. It opened in 2010 after a sympathetic refurbishment which retains the integrity of the original architecture and at the same time offers a luxurious and sophisticated hotel environment.
Cap Rocat is located about 30 mins from Palma.
It has 30 guestrooms and suites, and can cater for up to 200.
Ca's Xorc
Between Soller and Deìa, Northwest Mallorca

Boutique Hotel and Restaurant Ca's Xorc is a two-hundred-year-old finca with its own oil mill which has been converted into a well-appointed hotel amidst lemon and olive groves in the foothills between the Tramuntana mountains and the sea on the west coast of Mallorca.
The estate still produces olive oil from its 300 olive trees, as well as vegetables and herbs which end up in the restaurant kitchen. It even has its own Moroccan tent - ideal for a wedding ceremony!
Ca's Xorc is about 40 mins from Palma, and 10 mins from the Port of Soller.
It has 15 rooms and cottages and can cater for 88 inside or 110 outside.
Castell Son Claret
Es Capdellà, Calvia, Southwest Mallorca
Located below the towering peak of Puig de Galatzó, the highest mountain in southwest Mallorca, this magnificent 19th century castle with its 360 acres of parkland and gardens offers all the benefits of a luxurious and very prestigious hotel.
One of its restaurants, Zaranda has 2 Michelin stars - the only one of this category in the Balearic Islands!
Despite its tranquil rural setting this hotel is only 30 mins from Palma and 20 mins from the beach.
It has 38 guestrooms and suites, and can cater for up to 120.
Ermita de la Victòria
Cap des Pinar Península, Alcudia, North Mallorca
Tel. +34 971548665

This is my favourite small church in Mallorca! A former Carmelite convent, the fifteenth century construction was renovated in baroque style around 1678 and with its high solid walls it seems to have been built as a defensive building - perhaps because of the pirate attacks which were frequent on the island around that time.
The peaceful interior of the chapel has a gold altarpiece with a niche containing an exquisite 15th century wooden statue of the Mother of God of La Victoria.
The location of the church high on a hillside overlooking the bay of Pollença and surrounded by breathtaking mountain and sea views is simply stunning!
Above the chapel, on the upper floors with an entrance at the rear of the building, is a small hotel, Petit Hotel Hostatgeria La Victoria [[SHOW LINK TO www.lavictoriahotel.com]], and just 50m away is the excellent Restaurante de la Mirador de la Victoria which also has spectacular views from its terrace! The combination of the chapel and restaurant could make for an unforgettable wedding!
It is an hour from Palma and the chapel seats about 100.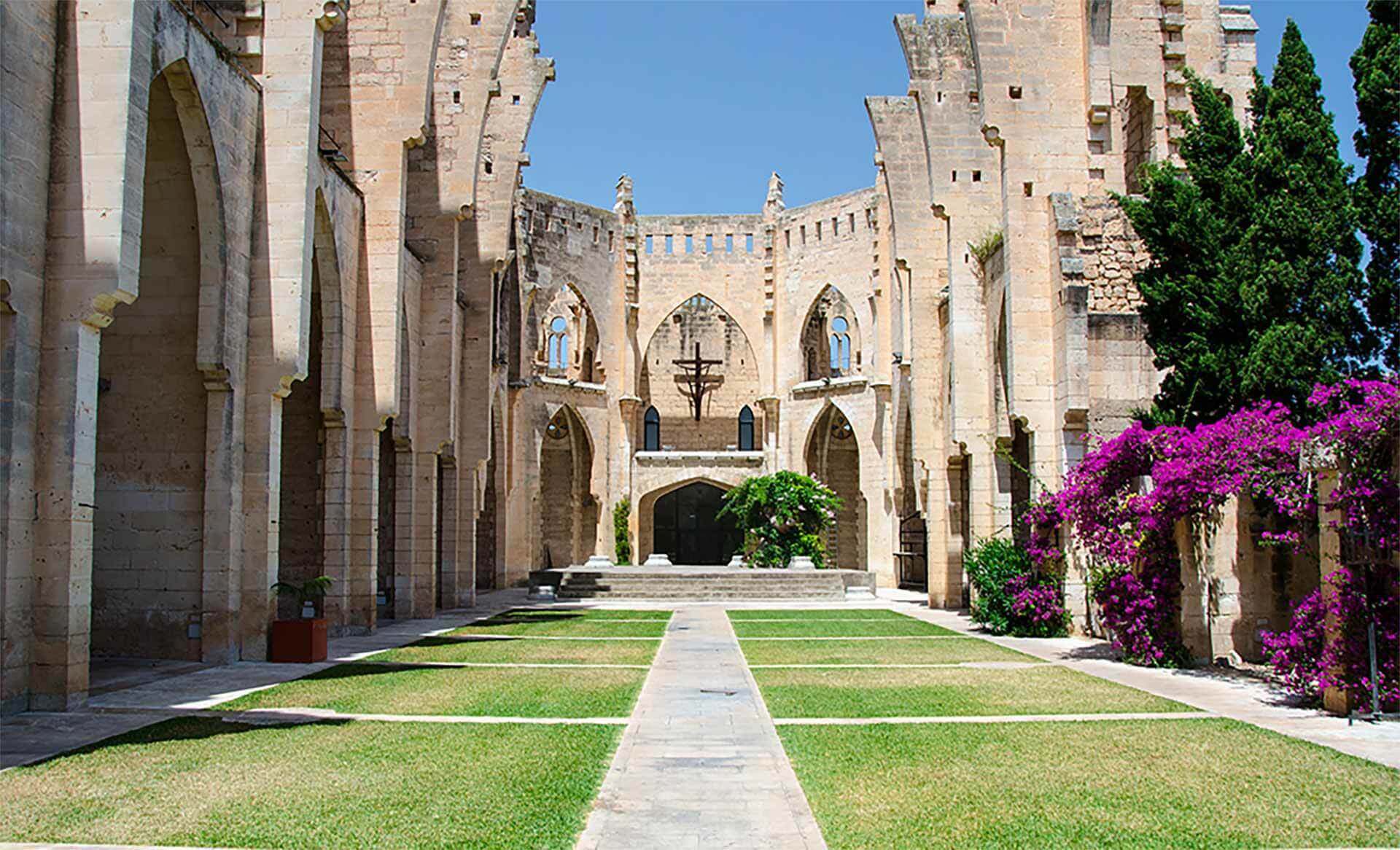 Església Nova
Son Servera, Northeast Mallorca
For info call Tel:+34 971567002

This impressive open-air church, Església Nova, is actually an unfinished project built in Gothic revival style by the Catalan architect and disciple of Gaudí, Joan Rubío i Bellver. Building started in 1906 and went on until 1929 when, unfortunately, work was suspended due to funding problems.
These days the church which has an attractive interior garden, is used for cultural events and religious ceremonies. It is an important focus of community life in Son Servera as well as being the town's most emblematic building.
It is an hour from Palma and can seat up to 300.
Formentor - A Royal Hideaway Hotel
Formentor Beach, Port de Pollença, North Mallorca
This legendary hotel is set in an area of outstanding natural beauty which has remained almost unchanged since the hotel opened in 1929. Tree-clad mountains rise up behind the hotel, lush manicured gardens surround it and an idyllic sandy beach tempts you into the crystal-clear waters of the bay of Pollença.
Known as the hotel of the stars, notably Grace Kelly and Prince Rainier spent their honeymoon here in 1956, and the hotel includes Winston Churchill, Audrey Hepburn and Charlie Chaplin among its famous guests of the past.
Formentor Beach is about 20 mins from central Port de Pollença, and 1 hour 10 mins from Palma.
The hotel has 122 guestrooms and suites, and can cater for up to 250.


Hilton Sa Torre Mallorca
Llucmajor. South Mallorca
The Sa Torre Mallorca is built in and around a beautifully restored 14th century manor house. It has an ancient tower, traditional windmill, attractive cobbled courtyards, and a magnificent private Neogothic chapel, La Gran Cristiana - perfect for weddings!
The setting is rural, about 30 mins from Palma, and the hotel has a complimentary shuttle service to the beach during the summer months. Many sports facilities are on offer within the hotel grounds and there is a golf course nearby.
The hotel has 90 guestrooms and suites and can cater for up to 200.
Son Marroig
Deìa, Northwest Mallorca
For Info call Tel: +34 971639158


Son Marroig is one of the best-known stately homes in Mallorca. It belonged to the unconventional Archduke Ludwig Salvator of Austria who first came to the island in 1867. He spent many years in Mallorca and wrote books about the ethnography and wildlife of the Balearic Islands. He loved the Tramuntana mountains and bought up many estates and properties between Valldemossa and Deìa in an effort to preserve the area from over-development.
The Archduke was ahead of his time as a conservationist and is very much revered by the Mallorcan people. Son Marroig is now a museum containing many of his personal items, photos, furniture, artwork and pottery.
In the attractive gardens we find the elegant white marble neoclassical temple which the Archduke had built as a place to contemplate the magnificent view over the sea and towards the peninsula of Sa Foradada. It is easy to see why the temple makes a magical location for a wedding, however a wedding here involves bringing in seating as well as all equipment - it can be done, but probably best with the help of a wedding planner.
It is 45 mins from Palma and seats up to about 120
St Regis Mardavall Mallorca
Costa d'en Blanes, Calvia, Southwest Mallorca

This luxurious resort has extensive gardens right beside the sea offering a superb location for an outdoor marriage ceremony with beautiful sea views. As well as the gardens there are attractive terraces, and a lovely ballroom - all perfect for wedding celebrations.
Sandy beaches nearby are at Portals (6mins) and Palmanova (4 mins).
The hotel is located about 20 mins from Palma.
It has 125 guestrooms and suites, and can cater for up to 160.
Por Cheryl Silvester
25 febrero, 2020