I only have about fifteen recipes in my repertoire that I rotate – but I love being able to go down to the river and catch a 30 lb. salmon, then grill it on the barbecue. ~ Patrick Duffy
Firing up the coals and smoking away tasty morsels on the BBQ is one of my personal highlights here on Mallorca, and with 300 days of sunshine a year we have months and months of perfect BBQ weather. I love my food, and quite frankly will barbecue anything- but there is something incredibly delicious about fresh fish, absorbing the hickory chips and charcoal and landing straight on your plate. Whether it's tuna steaks, fish kebabs or maybe a local delicacy such as 'Gambas rojas de Soller[[LINK TO TOWN/VILLAGE PROFILE]]'- this guide is sure to inspire any budding BBQ chefs.
A Word of Warning #
In terms of beach parties, unless it is the organised local fiesta of San Joan you are not allowed to fire up your BBQ on our gorgeous sandy dunes due to the risk of fire. Please, bear in mind quite how dry and warm our summers are, the smallest flames can spark the largest fires on any dry vegetation or kindling. However, picnics are permitted anywhere - so why not cook all your BBQ goodies at home and bring them down the beach later on. If you are caught BBQ-ing, the police will require you to put the BBQ out on the spot, and potentially even issue a fine.
Local Fish #
The warm waters of the Mediterranean mean that many breeds of fish thrive off of the coast of Mallorca- ensuring that a large percentage of fish sold or served in restaurants across the island is as fresh as you can get. This also means that it is easy for the likes of you and I to pop into one of the local markets and purchase a freshly caught squid or lobster without too much hassle, although the latter do come at a price.
Most common Fish on Mallorca #
For a BBQ here on Mallorca, my personal favourite purchase is either the squid or the red prawns (I have some great BBQ recipes for both, see below), and the following five fish species:

Scorpion Fish (Caproig)
Highly desired by fishermen across the island, this is a unique and tasty (although not overly affordable) fish.
Dolphinfish (Caballa)
One of my personal favourites here in Mallorca, also referred to as 'MahiMahi' or 'king mackerel', it's a plentiful white fish with a lot of flavour.
Bluefin Tuna (Atún rojo)
Available in abundance across the north coast of Mallorca, and occasionally even visible in the shallow waters near the shore, the 'King of the Seas' – the Bluefin tuna - is one of Mallorca's most loved fish.
Albacore (Bonito del Norte)
Another species of tuna only found in the deepest of waters- it's not quite as common as its relative Bluefin Tuna, but easily found throughout the Balearics - just with a slightly higher price tag.
Swordfish (Emperador)
Swordfish is a white fish with a meaty texture, and strong flavour. A BBQ favourite, and a staple on almost any menu across the island.
Where to Buy #
The most famed fish market of all is the 'Llotja del Peix' on the Moll des Pescators in Palma. This market operates Monday- Saturday from 6am, where last night's catch is laid on ice and available to purchase. The chorus of voices from the women selling the fish, mimic those of mermaids at sea; it really is an experience.
You can also find an impressive display of fresh fish at the indoor Mercat de Santa Catalina, also in Palma - where you can also buy the fruit and veg and find the perfect accompaniments for your BBQ feast.
If getting to a market isn't possible (6 a.m. starts aren't for everyone), then I recommend the Mercadona supermarket. The fresh fish on offer is beautiful and very fairly priced.
Perhaps you are the more adventurous type and the idea of catching your own dinner and bringing it back to the BBQ appeals to you? Well if so, here is how to obtain your fishing licence.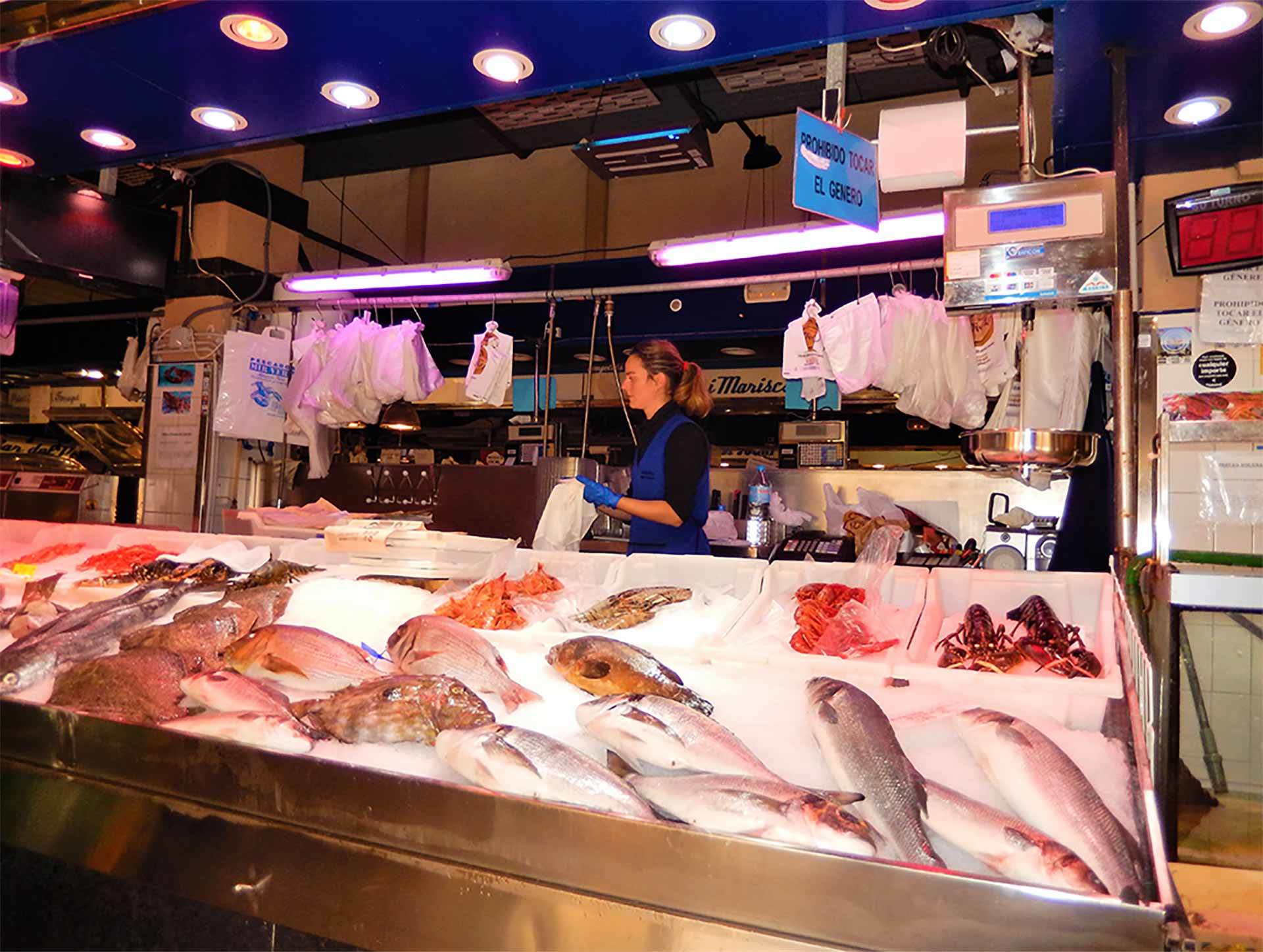 Recipes #
Garlic Prawns
I adore cooking, and BBQ-ing is no exception. For me nothing beats a prawn: De-shell, skewer onto a kebab stick and serve with home-made garlic butter: I crush fresh garlic with a pestle and mortar, then mix with a hefty chunk of butter (still in the pestle and mortar), and once I am satisfied with my buttery creation I dip each prawn into the mixture, rubbing it in with my fingertips to both sides, and skewering onto the kebab stick; before leaving in the fridge to chill. I recommend 6 prawns per person, unless you choose to use Tiger or King Prawns where 3 or 4 would suffice. This is a recipe my Dad has tried and tested for many years, and now with my friends, I've passed it on.
Squid with a Kick
I like my food to have a kick, and cooking squid with some fresh chilli is a sensational BBQ dish. To prepare simply place your squid on a chopping board, upside down so that it's wings lay flat. Then slice across the top as if you were about to chop it into rings, but don't cut all the way through, a concertina effect if you like (this way the chilli flavour will absorb into the fillets best). Ensure you have one fillet per person.
In the pestle and mortar, combine fennel seeds (a handful), salt and pepper (a pinch), the juice of a lemon, and a teaspoon of olive oil, as well as a chopped whole chilli (seeded or deseeded depending on how well you handle your spice). Mix together and drizzle over the squid fillets. When you've finished, place the fillets onto the hottest part of the BBQ (the centre) and turn every 30 seconds until they turn from opaque to white, each fillet should only take between 3 and 5 minutes- and they'll be ready to serve. Yum.
Smoked Fish
The garlic butter and fennel and herb marinade marinade also work very well with our local Dolphin Fish (Caballa), where you use the entire fish - no fancy filleting needed here. Ask your fish dealer to gut and scale it for you and wash it inside and out before continuing with your preparation. Grate half the zest of an orange and a lemon, and then cut the remainder of the fruits into slices. Mix the zests in a blender with 4 cloves of garlic, half a red onion, 3 tablespoons of capers, a handful of mixed herbs (of your choosing, I would recommend dill, parsley and basil), 3 tablespoons of olive oil and a large pinch of salt and pepper.
Pack the mixture into the fish and stuff in an array of the orange and lemon slices you cut earlier, too. Leave to infuse for 45 mins (at room temperature) or 4 hours (in the fridge). When you're ready to get cooking, place the fish on the hot grill, close the lid and smoke for 15-20 minutes, turning half way through. As this is a meal in itself, simply serve with some crusty bread and maybe a small tomato and red onion salad, and you'll have the meal of a lifetime.
Camping Zones #
The GOVERN ILLES BALEARS has a Dirección General de Espacios Naturales y Biodiversida that provides the legal regulations for access to protected areas and refugios. Unfortunately, this site is only in Catalan or Castellano so you'll need a translator to ensure you do not violate any of the laws. This is a handy reference link. Enjoy the great outdoors on the island!
Sources
Personal Experience
Toms Catch
HolidayinMallorca
BBC Good Food
#foodies #fish #markets #tasty #summer #feasting
Por Zoé Holmes
3 julio, 2021